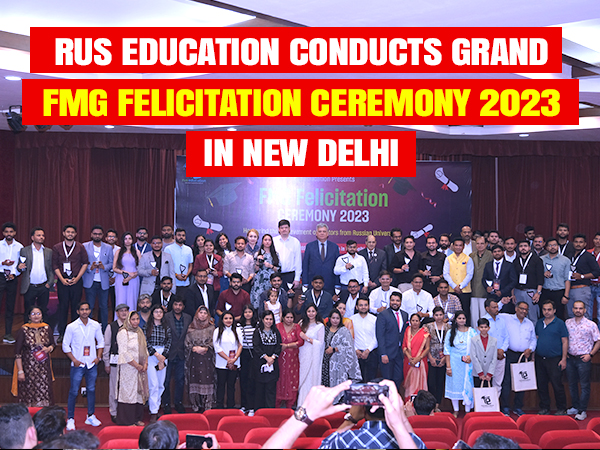 Rus Education Felicitates Russian pass out Doctors for clearing Indian licensing exam
Mar 23, 2023
New Delhi [India], March 23 (ANI/SRV): No matter how many medical aspirants leave India to study MBBS in Russia every year, the ultimate goal of the majority of Indian students is to practice medicine in India. The gateway to entering the Indian healthcare system after pursuing medical education in Russia or anywhere in the world is qualifying for the Foreign Medical Graduate Examination (FMGE). According to an FMGE circular of Screening Test Regulations 2002 dated 15th March 2002, any candidate who has taken admission to a foreign medical institution on or after 15th March 2002 must appear for the FMGE screening test.
The Foreign Medical Graduate Examination (FMGE) is a medical licensing examination conducted twice a year by the National Board of Examination (NBE) for Indian or Overseas Citizens of India (OCI) who have completed their medical education from foreign medical universities and now want to practice medicine in India. Qualifying for the FMG Examination is necessary to obtain the registration certificate from the National Medical Commission (NMC) or State Medical Council (SMC). Referring to the draft of the National Medical Commission, the FMGE will soon be replaced by the National Exit Test (NExT) in 2023 which will be a common exam for both Indian and Foreign Medical Graduates.
The result of FMGE December 2022 was a milestone achievement as 32% of the candidates cleared the exam with flying colours. It was a proud moment for Rus Education and its associated Russian medical universities - Orenburg State Medical University, Perm State Medical University, and Mari State University - with hundreds of their medical graduates qualifying for the exam. The day of 3rd February 2023 was historic and memorable for them, with many graduates qualifying for the exam and soon joining the Indian healthcare system. All this would not have been possible without the on-campus FMGE coaching classes for Indian students by Indian doctors and professors arranged by Rus Education in joint efforts with the Russian universities.


To celebrate the big achievement of new doctors, a special FMG Felicitation Ceremony was organized by the team of Rus Education at the Russian House in Delhi on Saturday, 18th March, 2023. The event was attended by the top dignitaries from the Russian House in New Delhi (Cultural Department of the Embassy of Russian Federation in India) along with the management of Rus Education. The event witnessed attendance from Doctors, who recently graduated from various Russian universities and cleared their Foreign Medical Graduate Examination, along with their family members. The Event was coordinated and conducted by Dr. Dinesh Singla, Director, RUs Education and Priya Malhotra, Astt. Director, Rus Education. The event started with the National Anthems of India and Russia.
Oleg Osipov, the Director of Russian House in Delhi, in his address to the Russia-returned doctors and parents, thanked them for choosing Russia for their medical education. He stated that Russia has some of the best medical universities and India is known to have some amazing talent. He shared his pride that these new doctors have achieved the best of both worlds.
Air Marshal Dr. Pawan Kapoor, applauded these former students and their parents as all their sacrifices, hard work and dedication have finally resulted in this moment of pride. He further advised the new doctors to keep learning the art of medicine.
Elena Barman also shared her happiness on being witness to all these former students and new doctors imbibing the Russian values and culture and wishes to see them keep on bridging the gap between the health requirements of both countries.
Prof. S.K. Washim also interacted with his beloved juniors. He congratulated them and their parents on this amazing achievement. He reminisced about the day when they chose Rus Education for their MBBS study in Russia and shared his joy in being a witness to this dream transforming into a reality. He advised them to keep their learning graph up and help their friends and juniors also in their struggle of qualifying for the Indian Medical Licensing Exam.
The administration of Russian Universities also became a part of this event as they sent special messages for their alumni who have made the universities proud. Rector of Perm State Medical University, Prof. Blagonravova Anna Sergeevna, Rector of Mari State University, Prof Mikhail Shvestov, and Prof. Miroshnichenko I.V, Rector of Orenburg State Medical University sent their congratulatory notes addressed to the former students and wished them luck on their new journey.
The formal part of the event also witnessed the distribution of gifts to the students for their achievement in clearing the FMGE. The doctors and their parents were full of excitement and emotions. Therefore, Rus Education welcomed the new doctors and their parents on the stage to share their overall experiences throughout their journey and what kept them motivated to achieve their goals. After receiving the token of appreciation and good luck from the esteemed guests, the new doctors and their parents and mentors from Rus Education posed together to celebrate this moment of pride.
The event was concluded by Dr. Dinesh Singla, Director of Rus Education by giving the students the ingredients for success. He told the doctors that courage, integrity, consistency, perseverance, taking risks and enjoying the work are the key factors for a successful career. On behalf of team Rus Education, he shared this gratitude to the doctors for choosing Rus Education to be a part of their success story.
The FMG Felicitation Ceremony concluded on a happy and fun-filled note for the entire staff of Rus Education and Russian House in Delhi, and the new doctors celebrating their victory over good food, groovy music, and cocktails.
This story has been provided by SRV. ANI will not be responsible in any way for the content of this article. (ANI/SRV)