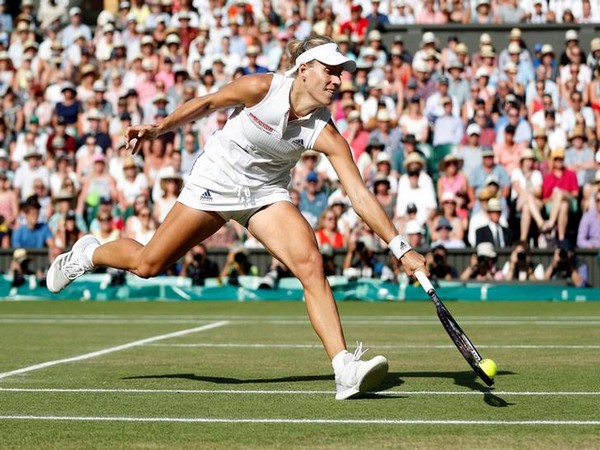 Angelique Kerber recalls memories of hero Steffi Graf after Wimbledon win
Jul 15, 2018
London (United Kingdom), July 15: In a noted essay on women's tennis, written in 1988, the year of Angelique Kerber's birth, the novelist Martin Amis reckoned Steffi Graf was "something unbelievable on the tennis court, a miracle of speed, balance and intense athleticism. She looks like a skater but she moves like a puck".
Those words proved to be a near-perfect fit description of Kerber's deft 6-3, 6-3 dissection of Serena Williams. There were certainly several miracles of speed as she chased down shot after shot, forcing the American into numerous errors, as she became the first German to win a Wimbledon singles title since Graf in 1996.
Graf was Kerber's hero when she was growing up in Bremen. Since then the pair have become confidants who enjoy a glass of wine and a game of backgammon together, as well as being occasional practice partners. And Kerber also credits Graf with giving her the mental belief in 2015 that she could be a grand slam winner.
Since then Kerber has won the Australian and US Open. But she admitted that defeating Williams, a 23-times grand slam winner, was something else. "My first memories were of watching Steffi here, winning all the matches," she said, smiling. "I remember when I was watching her, that everybody was playing in white on the grass court.
"But this is just amazing. I cannot describe this feeling because when I was a kid I was always dreaming for this moment. To win Wimbledon, it's something really special."
For Williams's previous six opponents it was honour enough to be on court on her. Kerber, though, believed she could beat her. But she admitted there was some nervy moments, particularly at the end. "I knew that I have to take my first chance because you never know with Serena," she said. "She is always fighting until the last point."
Kerber started playing tennis when she was three but she was far from an overnight prodigy. It was as late as 2011 - when she was 23 - that she finally made her breakthrough, reaching the semi-finals of the US Open as the world No 92. And when she became No 1 as a 28-year-old in 2016 she was the oldest women to claim the top ranking for the first time.
At the final point she ran up to the Royal Box and hugged her coach Wim Fissette, who she turned to after a poor 2017 season dropped her down the rankings.
Fissette, who has coached Kim Clijsters, Victoria Azarenka, Simona Halep and Jo Konta, is known as being very detailed and analytical. In their seven months together he has already improved the pep and variety on her serve and power in her ground strokes.
Advertisement
"We tried to improve my tennis by being more aggressive," Kerber explained. "We also changed my serve a little bit - and the fact I served good in the important moments was one of the key points in the match."
It helped, of course, that Williams was far from her best. So often when the American plays, tennis becomes a very simple equation: if she gets into her veracious groove she triumphs. Yet she never settled. By the end of the first set she had hit 14 unforced errors to 11 winners, and only won 14% of points on her second serve. The second set was not much better as she made a series of bizarre misses, including a drive volley in the final game.
Grass tends to extenuate Williams's weapons, especially her howitzer serve and ground strokes. Kerber, however, feeds on power. And so many times she was able to absorb her opponent's biggest blows and return them with interest. The fact the German hit 11 total winners to just five unforced errors told its own story.
Understandably, Williams was disappointed. But when she looks back on this fortnight she will surely be flooded with overwhelming pride. After all, it was only 10 months ago that she needed an emergency C-section while giving birth to her daughter, Alexis Olympia, and she also suffered blood clots and other serious complications afterwards.
The problems were not only physical. As she admitted in Being Serena, a recent documentary, they also lurked in her mind. "There's no escaping the fear," she said. "The fear that I might not come back as strong as I was, the fear that I can't be both the best mother and the best tennis player in the world."
Perhaps after this defeat those worries will linger. But when Williams steps out on to court at the US Open she will surely be even hungrier and fitter - and, as usual, be the one player her opponents are afraid of most of all.
Source: The Guardian