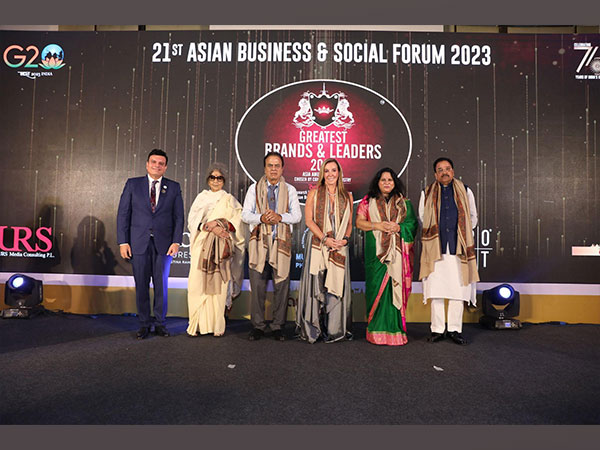 21st Asian Business & Social Forum 2023 & The Healthier India Conclave 2023
Sep 25, 2023
GLOBAL PR CONNECT (GPRC)
New Delhi [India], September 25: AsiaOne Media Group successfully organised the 21st Asian Business & Social Forum and The Healthier India Conclave at The Grand Hotel, Vasant Kunj, New Delhi. Today Asia & India take centre stage as the abodes of some of the fastest growing major economies of the world, and offer endless economic and business opportunities domestically and internationally in a post-COVID world. As a Platform of Excellence, the Forum offered limitless opportunities of collaboration in business, in terms of investment, joint ventures, expansions, and has become immensely relevant for exploration of economic opportunities for those who believe in embracing excellence in their businesses. 
"Sustainability for Global Peace, Prosperity and Progress" was the theme of the 21st Edition of Asian Business and Social Forum, which celebrated India's G20 Presidency. This is in sync with India's G20 theme of 'One Earth, One Family, One Future' for promoting the universal sense of one-ness. Deeply entrenched in the Indian culture, the philosophy of 'Vasudhaiva Kutumbakam' (which means The World is One Family) encourages universal harmony for creating a better, more inclusive and harmonious world for all.
At the Forum, AsiaOne brought together business and social leaders and diplomats from the participating countries and beyond to deliberate ways to collectively march towards a sustainable future.
The Healthier India Conclave 2023
Healthcare and Wellness are the most significant sectors for a nation as its prosperity is directly linked to the wellbeing of its citizens. The Healthier India Conclave brought together government officials, and leaders from the Healthcare and Wellness industries, related international and national organizations, key stakeholders, decision-makers, the non-profit organizations, community leaders, innovators, and technology providers to chart a framework for a Healthier India. Stalwarts from various healthcare and wellness segments took centre stage to address the requisites for achieving the health of the nation and dwell upon the strategic and technology driven solutions to the challenges our country is facing today in securing the overall health and wellbeing for our nation.


Rajat Raj Shukal, Global Head and Principal Partner, AsiaOne Media Group, opened the summit with his welcome address to the Hon'ble Ministers, Ambassadors and eminent business and social leaders present at the Forum.
The Minister of State for Defence and Tourism, Shri Ajay Bhatt threw open the summit by lighting the lamp along with Rajat Raj Shukal and the other dignitaries present at the Forum namely Tara Gandhi Bhattacharjee, Dr Satya Vadlamani, Dr Christina Rahm and Dr JC Chaudhry.
Ajay Bhatt congratulated the Asian Business & Social Forum for celebrating India's G20 Presidency. He was all praises for India's G20 presidency wherein the nation transformed it into a nationwide festival, reaching every city and leaving no stone unturned to achieve its objectives. "Embracing the spirit of Vasudhaiva Kutumbakam, we inclusively engaged with everyone. A pivotal factor contributing to our success was the leadership of our Prime Minister, Narendra Modi, who has risen to become an undisputed world leader," he said.
The Minister of State for Health and Family Welfare, Prof. SP Singh Baghel applauded The Healthier India Conclave 2023 and the brands and leaders recognized at the Summit. He emphasized upon the challenges these brands and leaders face in earning these awards. "With a population of 1.4 billion, the number of people winning Padma Awards in India is relatively low. This is why awards presented by esteemed organizations like AsiaOne play a crucial role in recognizing truly deserving individuals from all walks of life," he emphasized.
Dr Satya Vadlamani, Chairperson, Murli Krishna Pharma Pvt. Ltd. talked about the advancements in the nation's Science, and Technology, and Healthcare and Pharma sectors. She asserted, "Today, we are all in a situation where at the end of G20, everybody is aware of India's growing clout. There was no great innovation happening post 2000s. But today when you look at India and the world, maximum development has happened here and we are proud in our own way to be a small part of this drug delivery system of the world."
Talking about the interconnectedness of the world, H.E. Dr. Christina Rahm, Founder, DRC Ventures, said, "I've worked in 88 countries, trying to bring together solutions for the world. See, we're all connected. Whether we're a scientist or a fashion designer or a mother or just someone that is a father that has a child, we're all connected. We're connected to a leaf on a tree. We're connected to animals. Energetically, everything that happens to us touches others throughout the world."
One of the prominent healthcare brands recognized at the Summit is Murali Krishna Pharma Pvt. Ltd. (MKPPL) – a novel drug delivery systems company in Maharashtra, India. Established in 2004, it is a reputable and dynamic Drug Delivery Systems (DDS) organization that provides solutions to optimize the delivery of pharmaceutical products. Its manufacturing facility is approved by the European Union and has GMP Compliance from WHO. It has revolutionized the Indian pharma landscape, positively impacting countless lives.
Another significant wellness brand recognized at the summit was 'The Root Brands' under DRC Ventures, which was established to cultivate a collaborative environment that transcends geographical and cultural boundaries. Through philanthropic foundations, beauty and fashion brands, influential platforms, and reputable organizations, DRC Ventures facilitates widespread access to medical, supplementary, and environmental services.
Winning Leaders and Brands
Some of the leaders who were recognized at the Summit are Dr. Cyrus Poonawalla, Founder, Serum Institute of India; Dr. Kiran Mujumdar-Shaw, Chairperson, Biocon Group; Dr. Christina Rahm, Founder, DRC Ventures; Dr. Satya Vadlamani, Chairperson, Murli Krishna Pharma Pvt. Ltd., Dr J.C. Chaudhry, Chairman Aakash Healthcare, Dr. Nawab Shafi Ul Mulk, President, Mulk Healthcare Enterprises, UAE, Vikash Kumar Vikash, IPS, Anubhav Agarwal, Managing Director & CEO, BN Group, Dr. Hema Purandarey, Consultant & Medical Director, Med Genome Centre for Genetic Health Care, Ajit Kumar Saxena, Chairman & Managing Director, MOIL Ltd., Dr. Manika Khanna, Founder CEO & Chairperson , Gaudium IVF, Koheli Puri, Founder & Managing Director & Jitendra Puri, Founder Director, Studio XP, Shyamprasad K, Founder & President, Vidya Herbs, Ashok Mitra, CEO, PT Kaltim Prima Coal, Dr. R Ananthanarayanan, CEO, Sajjan India Ltd., Raghava Rao , Founder, NSR Ventures, Sushma Boppana, Academic Director , Sri Chaitanya Educational Institutions,  Apeejay Education, MatriDerm, Anubhav Gupta, Managing Director, Wonderland Foods, GC Advisory, Ankur Periwal, KPT Piping Systems Pvt. Ltd,  J Joshi Infra Projects, Dr Sushil Gupta, Director – Prelude Public School, Lux Industries Limited, EZYBUILD®, ONN, M.K Infosystems Pvt. Ltd., ANDDCO, AISECT Group, ARTIST, Divakar's Specialty Hospital, Narayana Health, VMMC & Safdarjung Hospital, AstraZeneca India, Sun Pharmaceuticals Limited, Amrita Hospital, Yashoda Super Specialty Hospitals, Vertex Group and others.
AsiaOne is an international media house and the only Business & News magazine, with presence in more than 15 countries of Asia, Middle East and Africa. AsiaOne Media has pioneered the research-based listing of Brands & Leaders and supplements its listings with National & International Business & Social Summits and Awards function. It has been offering Indian, Asian and African brands & leaders with higher visibility through its several prestigious mediums including Magazine, Coffee Table Book, Television Broadcast, various websites, Android and iOS Apps.
To learn more about the event, research and the greatest brands and leaders, visit www.theworldsgreatestbrands.com, www.asiaone.co.in, and www.asiaone.me or call us at +91-011-43281161-66 or write to us at global@asiaone.co.in, dubai@asiaone.co.in, and singapore@asiaone.co.in
(ADVERTORIAL DISCLAIMER: The above press release has been provided by GLOBAL PR CONNECT (GPRC). ANI will not be responsible in any way for the content of the same)